Legendary Knights
Logon server: 68.35.95.227 Port 2593
Welcome to your new Ultima Online Home.  Here at Legendary Knights, your Adventurer will start with a 1200 point skill cap, but thanks to our unique leveling system. Stat cap is 300, and we feature many custom tameables and opponents. All standard maps are populated,   Legendary Knights is Gargoyle Friendly, so feel free to create A Gargoyle, an Elf or even a Human if you so desire.  All crafting systems are in place and many custom resources are available. We are a Family Friendly Server; we feature Mini Champs, Peerless Bosses and try to run Fun Events on a Daily Basis. We have just updated to the lastest expansion Of Tol  and we also have Eodon, ​Come and explore the new lands with us. we are patched at  7.0.52.2 We look forward to welcoming you to our community . . .

Shard Website: http://thelegendaryknights.weebly.com/
Uptime: 86.72%

Vote for this shard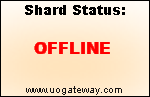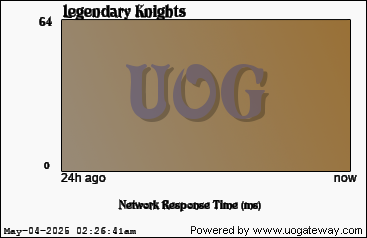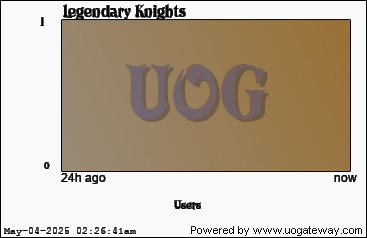 Stats last updated 2562 seconds(s) ago using 109515 data samples.

Graphs based on last 24 hours. Other stats based on last 30 days and update every 5 minutes.
Average response time is time it takes to connect and get info and is tested from Quebec, Canada.


Philip Brailsford (murderer) Click here to find out more info.